Besides getting a new coffee maker to boost up your morning, a toaster will never go wrong. Plenty of bread on a plate with your favorite jams or peanut butter is always everyone's favorite. From pastries to artisan bread, elders to kids, this appliance might be a great invention for your morning routine. Many of us have been wondering a lot in order to get the kitchen fit to our preference. These thoughts matter not only in terms of getting the most versatile one so it could save your space. The budget also matters. Some cheap one made looks really like a downgraded one with only basic features only. Pretty sad when you are looking for some decent one.
However, does the cheaper toaster make it less in quality? Will, it does not guarantee durability? Between Hamilton Beach 22623 and BLACK+DECKER TR1278B, these toasters are known to be low in price but presented with good features. Read more on the comparisons below so you can choose which one is likely to be yours.
Hamilton Beach 22623 vs BLACK+DECKER TR1278B Similarities
Similarities #1: Seven Shade Selectors
Some classic toaster models likely have minimum numbers of shade settings. Namely, browning control or precisely the feature that can set your bread toasted based on your likeness for the crisp and colorful, the shade setting plays an important part on this device.
As the kind of modern toaster, Hamilton Beach 22623 and BLACK+DECKER TR1278B are already equipped with seven shade selectors. Both of these toasters could make your bread and bagel toasted evenly with your favorite thickness and brownish.
Similarities #2: Wide Slots
As a 2 slice toaster, it is better to take a review on how the slots could fit your bread and bagel. You don't want any extra time to take out the bread that is stuck in the slot when you are in a hurry in the morning, right? Here these two compact size toasters are brought with an extra-wide slots feature.
Both Hamilton Beach 22623 and BLACK+DECKER TR1278B will be able to accommodate all kinds of types of your bread from sourdough to wholewheat bread. You are also able to freely take them out with the extra-lift features that fit for both convenience and safety. All you need is to pull the lever and your bread is ready to swing on your plate.
Similarities #3: Crumb Tray
If you are worried that low prices toasters don't have a nice feature as a side of a variety of shade settings, you are wrong. Like any kind of model, these toaster models brought to you by Hamilton Beach 22623 and BLACK+DECKER TR1278B are similarly available with an easy access crumb tray. So you can set aside your worries on how to get the crumbs off the inside of the toaster.
Both of the crumb trays from these models are placed on the bottom of the device. It is easy to access as you can swing to open and all the crumbs will easily go down without messing up your kitchen.


Hamilton Beach 22623 vs BLACK+DECKER TR1278B Differences
Differences #1: Toasting Controls
The multi-function toaster is such a nice term to be heard. By all means, your toaster will hit differently when it is able to not only make a perfect toast. There are options within the toaster that you could go worth to try such as to defrost, cancel or reheat. The difference between Hamilton Beach 22623 and BLACK+DECKER TR1278B is in its toasting options.
The Hamilton Beach 22623 has two very useful function options equipped. The first one is a cancel button to cancel the toasting process and the second is the auto-shutoff feature that the toaster will be off automatically whenever the toasting is done and it will stop the electricity connection. Meanwhile, the BLACK+DECKER TR1278B has three function options. Those are bagels to toast a bagel, frozen to defrost any frozen treats, and cancel to stop the toasting process.
Differences #2: Cord Storage
Each of the toaster machines is actually available with this one feature; cord storage. It is meant to simplify your storage and keep your kitchen counter neat without any wires tangled around. However, the placement of each of the cord storage is different as can be seen between these two products on the line.
The Hamilton Beach 22623 put its cord wrap at the back of the machine. It is reachable and easy to use. All you need is just to roll in the cable cord on the back of the body. Meanwhile, the BLACK+DECKER TR1278B puts the cord wrap beneath the machine near the crumb tray.
Differences #3: Materials and Electricity
Worry about the quality materials of your low price toaster? Here we tell you the differences between both of these models. It is noted that even the materials from both Hamilton Beach and BLACK+DECKER are below the other higher price toaster, you just can't take it easy for its functions.
The Hamilton Beach 22623 is made from non-stick materials with the need of 750-watt to power. Meanwhile, the BLACK+DECKER TR1278B is made from non-stick plastics but has stainless steel accents. This machine needs 850-watt to power.
Hamilton Beach 22623 vs BLACK+DECKER TR1278B Comparison
Hamilton Beach 22623
Hamilton Beach 22623 is brought to you as one of many low price toasters with the best functions equipped. This one little toaster is known to be lightweight and compact with dimensions about 11 x 6 x 7 inches and weighs less than 3 pounds.
As listed to be in the top 5 best seller rank of Amazon, this 2 slice toaster model is popularly convenient with its toast boost and automatic shutoff and for its ease of space-saving cord storage. If you worry that your round bagel or thick-cut bread will get stuck inside the slots, have no worries since Hamilton Beach 22623 toaster slots are 5 1/4 long and 1 1/4 wide. When a 4 slot toaster couldn't fit your kitchen space, this product might be the answer to your thoughts.
Also, the 7 options of browning styles give you more control of your treats. Other than that, the cancel and auto-shutoff functions will give you even more control. The shutoff function also gives you more security. Hamilton Beach 22623 is one lightweight low price toaster you can rely on.
Pros:
Toast boost technology
Comfortable cord storage
Easy-to-reach crumb tray
Auto shutoff
Cancel button

Cons:
No bagel or defrost function
BLACK+DECKER TR1278B
If you prefer to get one toaster that is more good-looking with some modern touch and can match with a mini food processor, BLACK+DECKER TR1278B can be your favorite. This low price toaster is designed with stainless steel accents within its cooking panel on the front. The toasting functions also vary among low prices 2 slot toasters.
There is a bagel button and a frozen that functions to warm the outside of the bagel, with its cut side facing the interior of the toaster slot. Frozen button worlds as a booster for frozen items such as your bread that comes from the fridge, simply put it's done a similar job with defrost. These two features are the main highlight of this friendly budget appliance. Sounds just about great, right? There is also a cancel button that lets you stops toasting in the middle and your bread will be popped out right away. Best offers with nice extras for a low-cost toaster in the market.
BLACK+DECKER TR1278B is powered with 850 watts for faster toasting and precise results with its seven shade selector. Other than those functions available and the slim and sleek look, this toaster is also featured with an easy-to-clean feature. The drop-down crumb tray makes this toaster even beyond perfect. By pressing a button beneath, the crumb tray will open automatically so then you can remove all the crumbs left. That will make your kitchen always in the best condition.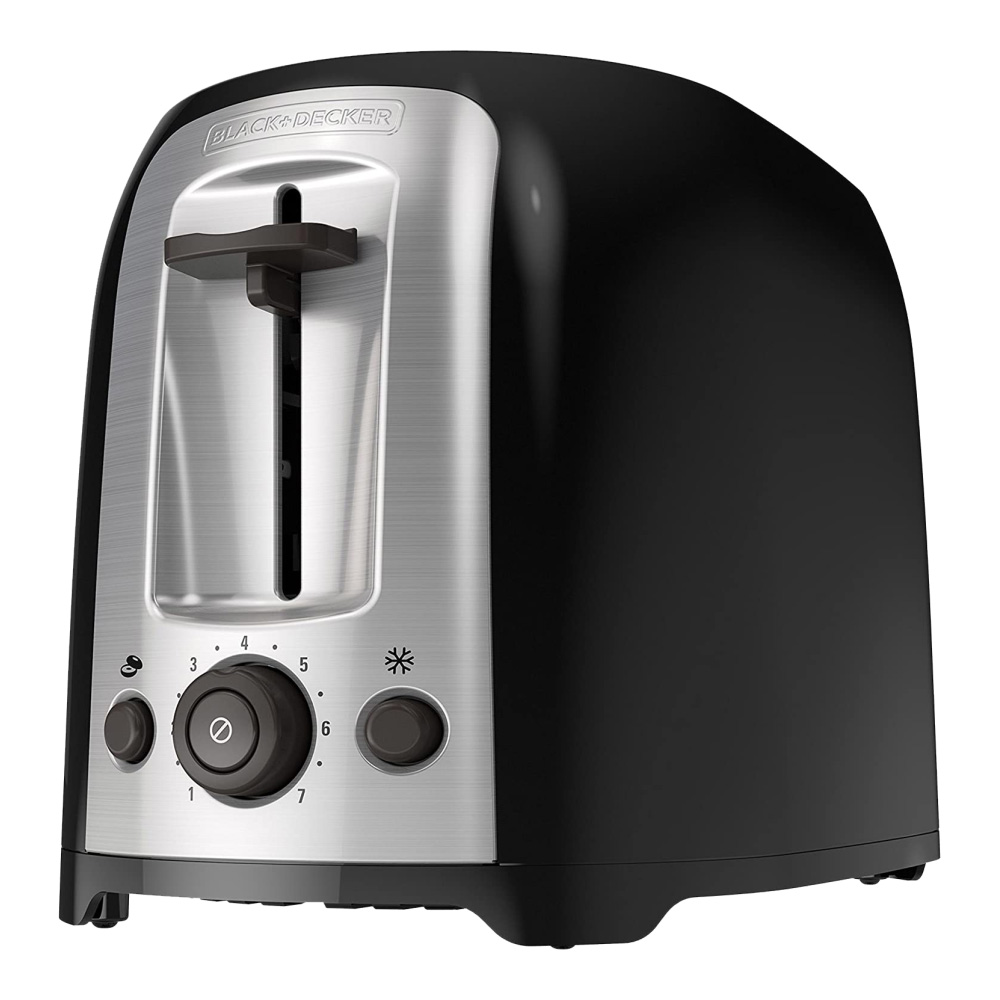 Pros:
Extra-lift lever
Various toasting options such as for bagel, cancel and frozen or defrost.
Stainless steel accent

Cons:
Under-unit cord wrap

No auto-shutoff feature
Summary
A toaster is a must even if you are living a simple life. It is because you can always enjoy your slow and simple morning with the best taste of bagel or bread. Your morning routine will be much easier and your mood for the day will be alright. Toasters are just all the best things. Even with a low price, you are able to have this one. Hereafter all reviews and comparisons, we can recommend one between these two above.
Our pick for your best purchase of a low price toaster goes to BLACK+DECKER TR1278B. This toaster gets the job done with its feature along. It is easy to use and clean. Especially with the drop-down crumb tray so you can get all crumbs gone in a snap. This also works accurately with its browning level and really pleasing with the looks that make it look more expensive than its actual price. The durability with this BLACK+DECKER TR1278B is also better with such low cost and material quality. Overall, you won't miss any great toaster job done for such a friendly price.
FAQ Hamilton Beach 22623
How many watts are needed?
This machine needs 750 watts to power.
Does it beep?
This machine does not beep or whistle or bells. When the toasting has finished the bread or treats will just pop up.
Where is the bread tray for cleaning?
The crumb tray is placed on the bottom of the machine. It is not removable but it unlatches to be emptied out.
FAQ BLACK+DECKER TR1278B
Are the slots deep?
The slots are deep enough to hold any kind of treats. But, if there is still a bread part that is not toasted then you need to cut the bread in half.
How do you know if the bagel is on or off?
You should turn on the bagel first before pushing down the lever. If it is done toasting and the bagel pops up, then it is off.
What is the wattage?
This machine needs 850-watt to power.
The Common Reasons Why Your Toaster Broke
You now know that you need the toasters. But, do you really know how to use the toasters in order to get the best morning meals? If you are still not sure about that, then you should take a look at the mistakes many people make when they are using toasters so then you can avoid it and get the best treats.
Never Cleaning It
The toaster is just the same as other appliances. It needs to be cleaned. Whether it is the crumb tray or the whole toaster, you need to still clean it. Put a schedule on it if you do not clean it regularly then the toaster will give you the best performance.
Toast Too Much Food
There are so many types of toasters out there. Each toaster has its own way of using. If you need to have more food, then you should choose more slots of toasters. Do not ever shove too much food in your toasters even if it looks okay.
Never Use The Settings
Each bread or treat always has its own toaster setting. Using the same setting for almost all your toasted meals will make the toaster not perform well. Make sure you adjust the setting for each different meal.
Bottom Line
Toasters are needed whether you live by yourself or with your family or friends. It will not only help you to get through your morning easily but also give a more healthy touch to your life. But, if you live by your own life and need a compact toaster, you should consider these two toasters of the Hamilton Beach 22623 vs BLACK+DECKER TR1278B.
References:
https://www.tasteofhome.com/collection/toaster-mistakes/